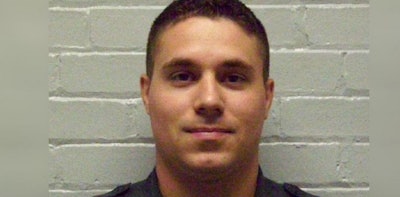 A Nash County (NC) Sheriff's Office deputy who was seriously injured in a Thanksgiving evening crash has died.
Deputy Jared Michael Allison, who had been hospitalized at Vidant Medical Center in Greenville since November 26, succumbed to his injuries Tuesday.
Deputy Allison was working on the evening of Thanksgiving Day as part of the Nash County Sheriff's Office participation in the North Carolina Governor's Highway Safety Program's Thanksgiving Campaign to ensure motorist safety and travel during the holiday, WBTV reports.
During a Friday press conference Sheriff Keith Stone said that Allison had just finished a traffic stop when a motorcycle that was driving carelessly and recklessly drove by.
The sheriff says that Allison had started to drive after the motorcyclist and had his lights and sirens on when he went through an intersection on Highway 301. A vehicle coming through the intersection hit Allison's vehicle sending his SUV into the median where it hit a culvert, overturned, and threw the deputy out.
The motorcycle rider kept going after the deputy wrecked and has not been arrested, according to Stone.
The sheriff says that the driver of the vehicle that hit Allison's SUV has not been charged but that the investigation is ongoing.