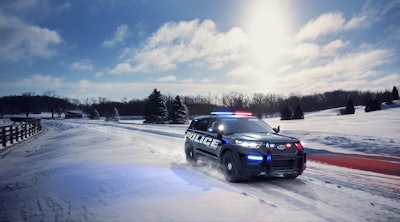 Law-enforcement officers take their role as guardians of the public seriously. And to fulfill their sworn duty, they need the right tools to do the job… especially when it comes to their mobile office.
The all-new 2020 Ford Police Interceptor Utility provides over $2,000 worth of new standard equipment vs. the previous-generation vehicle, and that's just the beginning. With a full array of standard and optional features, the Ford Police Interceptor Utility provides the right equipment to get the job done.
Standard Content
Every Police Interceptor Utility comes with a standard Ford modem and a two-year complimentary subscription to Ford Telematics. With Ford Telematics, agencies can monitor fuel use, CO2 emissions, vehicle health and more.
Standard Bluetooth capability allows voice commands to pass through to mobile devices at the touch of a button, allowing officers to keep their hands on the wheel and eyes on the road.
Other new standard features include:
LED low and high beam headlamps, with factory-integrated wig-wag functionality and pre-drilled holes for user-installed warning strobes
Four user-configurable steering wheel switches
Class III trailer tow receiver with 5,000-pound towing capacity
Dual-zone electronic climate control
Tilt and telescoping steering wheel
Automatic on/off headlamps
Deep sand/snow traction control with on/off button in control panel
For more information go to www.fordpolicevehicles.com
Optional Above & Beyond
The Ford Police Interceptor Utility has an array of optional equipment designed to help officers in a variety of situations. A full complement of lighting and wiring packages are also available, as well as other options to meet the needs of law enforcement.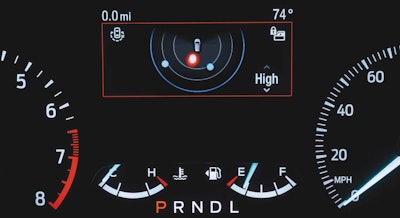 Optional factory-installed Police Perimeter Alert utilizes the vehicle's BLIS sensors to provide approximately 270-degrees of monitoring. The system analyzes motion outside the rear and sides of the vehicle and determines the threat level, which is visually displayed in the instrument cluster. When suspicious behavior is detected, the system takes action by turning on the rear camera*, sounding a chime, rolling up the windows, and locking the doors.
In addition, optional Rear Camera on Demand allows officers to view behind the vehicle at the touch of a button, at any speed.
Optional Pre-Collision Assist with Pedestrian Detection, including Forward Collision Warning and Automatic Emergency Braking, helps reduce the risk of a front-impact collision. A temporary disable switch for law enforcement is included.
Officers are asked to put their lives in danger on a daily basis, many times coming into contact with armed individuals. To help protect officers and other front-seat occupants, two levels of optional ballistic panels are available:
Optional Level III+ ballistic panels protect against NIJ Standard 0108.01 Level III rounds, as well as additional LAPD-specified special-threat rounds
Optional Level IV+ ballistic panels protect against NIJ Standard 0108.01 Level IV armor-piercing rounds, as well as additional special-threat rounds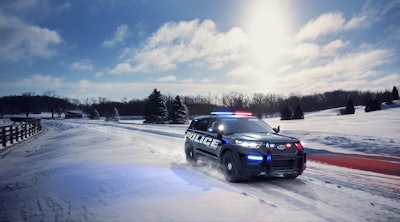 To free up precious front cabin space, the optional 12.1-inch Integrated Computer Screen is also available. The 12.1-inch computer touchscreen allows for remote operation of a laptop computer, allowing the laptop to be stored in a remote location rather than in the passenger cabin. The touchscreen display takes place of the laptop display, and can potentially eliminate the need for a keyboard in the cabin as well. With an easy connection in the cargo area, and no special software required to operate, laptop setup is streamlined. The new available 12.1-inch Integrated Computer Screen also includes SYNC® with vehicle audio controls integrated right into the display.
Designed and engineered in Dearborn and built in Chicago, the Ford Police Interceptor Utility provides standard and optional features to help law enforcement get the job done.
For more information go to www.fordpolicevehicles.com
*On vehicles with standard display in the center stack