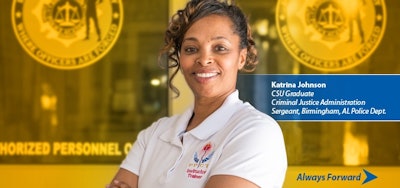 You've got the gear. You've got the training. You know all the codes. You may feel prepared for a day on the job, but seasoned criminal justice professionals know that to do your job to the best of your abilities, your introspective skills are just as important to serve and protect as your traditional training. Without them, there's a greater chance for miscommunication.
Here are five interpersonal skills that criminal justice professionals should have to be ready for anything the job throws at you.
Conflict Management
You were ready for this one! Throughout your training, you were warned of the types of conflict you could get into as a criminal justice professional. As well as being trained on the actions you will take, you should also be trained on your emotional responses to these events. Consider asking yourself these questions during conflict:
Are there ways to de-escalate the situation?
Are emotions too high to try to come to a compromise?
How can my words bring this situation to a peaceful end for all parties involved?
All of these should be answered when attempting to solve a conflict.
Active Listening
As a police officer, you will deal with individuals who just want to be heard every day. Whether they are victims of a crime, community members looking for a solution or those who have committed of a crime, being an active listener (interpreting and understanding the needs of others in a conversation) will help your audience feel more appreciated and understood.
Building Trust
To build trust in the community, police officers must be in constant communication with citizens, listening to their wants and needs and building a rapport with those they work with day-to-day. The perception of law enforcement is created by its relationships with community members, community officials and the media. Police and Community Relations, a course taught at Columbia Southern University looks deeply at these important relationships.
Adaptability
Situations change quickly in this line of work and those who can adapt quickly will succeed. No two days are ever the same for a criminal justice professional and those who love constant change will thrive in this arena. Work on adapting to change by keeping an open mind in all situations, keeping your mind sharp and learning as much as you can from every situation you encounter.
Critical Observation
Keen observation skills are essential in the line of duty. Being able to visually, mentally and emotionally gauge a situation quickly can save your life and the lives of others. Detail-oriented individuals tend to be better observers because they can pick out small (but important) details in a moment's notice.
Learn more about the skills needed to become a successful criminal justice professional by checking out CSU's associate, bachelor's and master's degree programs in criminal justice by visiting ColumbiaSouthern.edu/CJ.