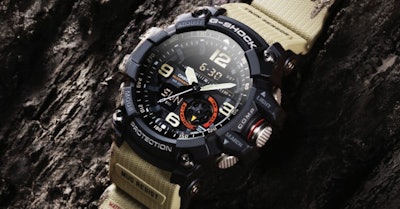 In 1981, Kikuo Ibe, Casio' research and development chief engineer dropped a mechanical watch his father had gifted him, breaking it. Rather than go in the same direction all other timepieces were going then--that is, sleeker and more delicate--Ibe tasked himself with the challenge of creating an unbreakable watch so he'd never repeat his mistake again.
The G-Shock collection went the tough route, working to create a watch that was durable, and shock-resistant. It was something wholly new to the industry: a watch that wouldn't break on impact. The technology the company conceptualized had to go above just the ability to tell time. It had to provide a lifestyle for wearers: one weathering through the toughest of conditions. The kind of lifestyle any police-, corrections-, or SWAT/tactical officer leads.
The developers wanted something that could withstand falls and drops, survive in water, and dependably function off of a single battery for an extended amount of time. Two years after Ibe's infamous broken watch incedent, and over 200 prototypes later, the "Triple 10" was born. With a 10-meter free-fall endurance, 10-bar water resistance and a 10-year battery life, G-Shock created a watch ready for the extreme.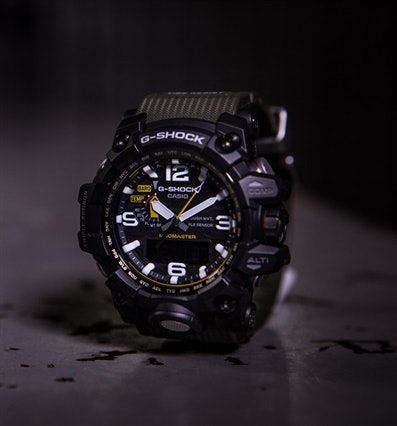 Though G-Shock offers an endless variety of options for wearers to choose from, such as seasonal colors and accents, and nearly 10 different collections, the G-Shock Master of G is the line of watches fit for an officer who sees the most hardcore days at the office--be it on land, in the air, or out at sea. For those in the line of duty, these watches are comprised of the fiercest technology, and the kind of material that can withstand the roughest of days.
For those out on the ocean, G-Shock designed the Gulfmaster, a maritime specific timepiece that detects change in atmospheric pressure and preempts deteriorating weather conditions. For officers in the sky, the Gravitymaster has reinforced structures to withstand quick changes in gravitational force and provides exacting technology. And for those on the land, the Mudmaster prevents intrusion by sand, mud, or dust making it the perfect tool for rangers and rescue crews.
Certain models such as the GWG1000-1A3 are solar powered rather than battery operated so they can run on even the weakest illumination. Any officer can rest assured the battery won't run down when they are needed most. And with the GPW2000-1A model, wearers have automatic GPS display of time as well as self-adjusting atomic timekeeping, making the Master of G line the obvious choice for officers who want technology that won't fail them.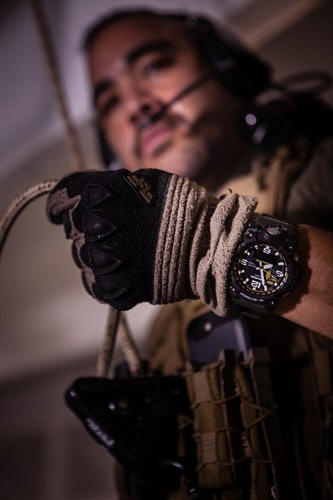 Captain Joseph Garcia is one of those on the ground, in the field, and therefore the perfect candidate for a Mudmaster. He is one of the world's foremost experts in the highly specialized area of Corrections Special Operations and a Senior Instructor for the United States Corrections - Special Operations Group (US C-SOG). Therefore he seen his fair share of high intensity inmate conflicts. Particularly working in one of the most violent environments in the world. According to Garcia, the G-Shock Mudmaster GWG1000-1A3 is the only watch for him. Designed specifically for these high intensity situations Garcia finds himself in, G-Shock's Mudmaster offers protection from mud, vibration, shock, and other elements. These are vital for any type of gear Garcia would choose, so it's no wonder he swears by G-Shock.
True to its name, G-Shock's Mudmaster also goes beyond just the traditional shock resistant timepiece. The proprietary shock resistance concept included a hollow-structure case, all-directional protective covering, and cushioning material to protect the most valuable parts. Offering large, non-slip buttons, a textured band, double LED lights, and improved wearing comfort, the Mudmaster line is the perfect timepiece to weather through mud, sand, and debris.
In particular, the G-Shock Master of G GG1000-1A5 provides officers with everything they could expect from a top of the line timepiece, and more. The watch is shock-, mud-, and 200M water resistant. When working on the frontlines, mud, dirt and sand can penetrate a watch, but the GG1000-1A5 has mud resist construction and multiple gaskets on the pipes that guide buttons and shafts, helping keep mud out. These pipes not only act to protect buttons from impact, they also enhance button operation. Plus. the watch comes complete with a digital compass, five daily alarms, and a thermometer, and 31 timezones. Which means officers have a watch they can rely on to be sleek, but highly functional in high intensity moments. They can focus on their tasks at hand, knowing they have a watch that won't fail them.