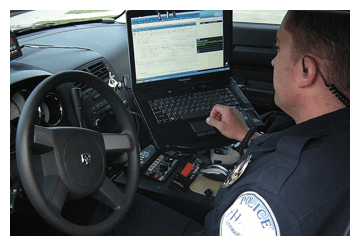 Police officers enter law enforcement careers to protect and serve their communities. Indeed, many consider it a calling or an honorable family tradition of public service. And for of all the motivators to enter the profession writing reports is, perhaps understandably, not frequently cited as one of them.
The reality remains, however, that incident reporting and other police documentation is both a necessary part of police work and a task that many officers can spend hours on each day. This can place a negative impact on department efficiency, officer safety, and police omnipresence. This is especially true as departments become more interconnected, federal reporting mandates like NIBRS increase, and paperwork burdens on policing continue to increase.
A recent national survey of law enforcement departments across the country found that officers can spend upwards of 3 to 4 hours per shift on reporting. Adding to the burden, the growing trend to reduce civilian support staff resources has pushed more documentation work onto officers. This has led to officers spending up to 25% of their time typing up reports at the station, according to our survey data, which can limit their visibility within the community. Safety issues can also arise when officers are preparing reports from their MDT's when in their patrol vehicle, which presents both ergonomic challenges and reduces situational awareness.
Despite the increased administrative burdens, the fact remains effective police reporting remains critically central to the judicial system – from prosecutors, public defenders, magistrates, the District Attorney, and even judges.
Alleviating the paperwork burden in policing
There is good news for the public safety sector, which is beginning to place urgency on helping to ease the paperwork burden in policing. Cities such as Los Angeles are aggressively building plans to leverage technology to help officers reduce administrative tasks, and more and more police departments are starting to move towards documentation productivity solutions to help officers develop their reports in a faster, safer and more complete way by voice.
This view of technology as a force-multiplier can free officers from the administrative burdens that can lead to burnout and otherwise detract from the varied personal drivers that led them to choose law enforcement as a vocation.
Making a case for speech recognition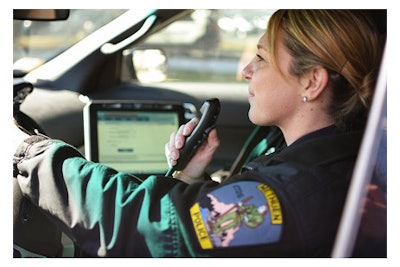 Law enforcement is not alone in facing increased, heavy documentation demands – but when it comes to police paperwork, the stakes are unusually high. The ability to complete and file accurate, detailed, timely incident reports is critical to speedy arraignments; late submission can result in the release of defendants. Speech recognition solutions like Dragon Law Enforcement let officers dictate reports – 3x faster than typing – to capture the immediacy of an incident, speed document turnaround, improve report quality, and reduce reliance on limited support staff.
Documenting by voice also reduces time spent at a computer manually typing reports, allowing officers to remain heads-up while authoring incident reports and issuing verbal commands with heightened situational awareness by minimizing the need to use the MDT keyboard while on patrol. The ability to perform everyday tasks by voice – like license plate and CJIS lookups – is supported by calls from associations like the International Association of Chiefs of Police to reduce distractions in today's technology packed patrol vehicles.
Speech recognition can also eliminate report backlogs by scaling the time savings of an individual officer across the department while fostering accuracy with a real-time review and editing of a report narrative as it appears on the screen. This streamlined process leaves more time for supervisor review, and most importantly helps ensure timely filing to move criminal proceedings forward and bring more offenders to justice.

Mark Geremia is Vice President and General Manager for Dragon Professional and Consumer and oversees the product and marketing strategy for Nuance's Dragon speech recognition and documentation workflow portfolio. Mark has held various leadership roles within the Dragon business over the last decade, and with his team continues to expand Dragon's reach across enterprise, legal and law enforcement markets, transforming productivity and documentation accuracy for professional individuals and large organizations. Prior to joining Nuance in 2005, Mark held key marketing management positions at both large and small technology companies. He holds a Bachelor of Science Degree in Business Management from Bentley College.