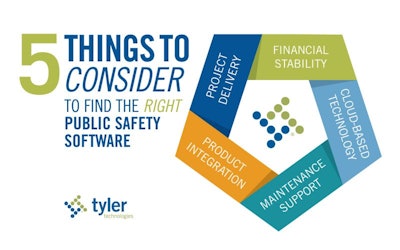 Public safety agencies understand the importance of high-performing technology solutions. Most technology is helpful, while others can be a hindrance. While some programs create a system of elaborate hoops to jump through, a reliable technology solution is intuitively designed to work precisely how and when you need it.
However, with time, agencies will need to update their products. Whether it's to account for newly implemented policies or to upgrade to the latest innovations on the market, a shift in public safety technology is inevitable. When that time comes, consider these five questions to ask public safety vendors.
1. Is the public safety vendor financially stable?
Technology requires a great deal of investment to sustain a high level of support and customer service. When considering a public safety vendor, consider their track record for innovation. Innovation is necessary to create a vendor-client relationship that will last long-term. Without a continued commitment to innovation, technology will inevitably become outdated, eventually sending agencies back to the drawing board. Be sure to ask prospective vendors about research and development to signal whether a company is in strong financial standing.
2. Are the products integrated?
Utilizing multiple programs can create significant margins for software incompatibility. When working with a large amount of data or file records, an integrated technology solution will ensure greater accuracy and efficiency for public safety agencies. Additionally, integrated products mean fewer technology vendors, which creates centralized customer support and higher cost savings.
3. What is the vendor's position on cloud-based technology?
Ready or not, cloud-based technology is here to stay. As more cloud-based technology providers gain approval for government use, cloud computing will continue its momentum as a public safety solution. By enabling secure access anywhere via end-to-end encryption, cloud-based technology will enable public safety agencies to reallocate resources by reducing data storage and IT overhead. The question is, will your public safety vendor be ready to make a move to the cloud?
4. What does your maintenance dollar get you?
An essential component of technology costs is maintenance. When reviewing line-by-line items of different technology products, it's worth considering the value of the maintenance dollar. For example, compare the level of support services that different vendors offer. Do maintenance costs go solely to technology upkeep? Or, do you benefit from having dedicated technicians to support you during the implementation process? After implementation, do you have personal representatives available to receive product feedback to generate new, real-world improvements? At a glance, maintenance can be costly, but it's one of the most important aspects to consider when shopping for a public safety technology solution.
5. How do vendors deliver projects?
When selecting a vendor, you want to ensure that the agency is in good hands. Before you sign the dotted line, agencies should ask public safety vendors thorough questions about project delivery. Discuss the agency's aims – is it a complete technology overhaul, or an update of current technology solutions? How is the vendor going to tailor project delivery to your needs? Can the vendor guarantee resource consistency, so that the agency receives the same personal care before, during, and after implementation? The journey with a public safety vendor could be a long one, so agencies should be conscious of committing to a vendor that will be with them every step of the way.
Have more questions that you would like to ask a public safety vendor? Reach out to Tyler's Public Safety team to learn more