Rich Szasz is Co-Founder of leading respiratory protection company O2 Industries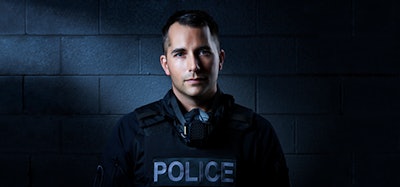 During an average day on the job, law enforcement officers will regularly face environmental hazards and exposure to gases, particulate matter, or vapors that can be permanently damaging to the lungs. This is in addition to increased exposure to viruses and other health hazards, because of course unlike other workers, law enforcement officers don't have the option to do their jobs from their living rooms. With that in mind, it's never been more crucial for law enforcement to have access to Personal Protective Equipment (PPE) that is as tough and resilient as they are.
Masks vs. Respirators
In many states, law enforcement can choose from multiple options for PPE to wear, depending on their day-to-day role. Officers on foot patrol and interacting with the public on a general basis may have more flexibility in their mask options, whereas special law enforcement units, like SWAT teams, may be required to wear a certain standard of PPE. In any case, it's important to understand the different options available, and what protection they offer. Although the world has become better acquainted with PPE, the words 'mask' and 'respirator' are still being used interchangeably far too often. To put it simply, masks and respirators are not the same thing, and the difference is crucial when it comes to protecting law enforcement officers in high-impact situations.
Generally, procedural and surgical masks are thin, loose-fitting, and disposable, whereas cloth masks are reusable. The main purpose of these masks is to protect those around the wearer from large particles and droplets emitted by the wearer. Thus, masks are intended to provide a one-way level of protection, which is specifically to protect others from droplets expelled by the person who is wearing the mask.
A respirator on the other hand is designed to protect the wearer from inhaled particles, including the infectious droplets of other people. Respirators accomplish this in two main ways: filtration and seal. The filter is designed to remove a high percentage of particles from the air, while the seal between the respirator and face prevents leakage around the filter. This combination is designed to restrict airborne particles from entering the wearer's nose, mouth and ultimately, lungs. This type of protection is crucial for law enforcement officers, as they regularly come into contact with compromised environments with reduced air quality that can permanently impact their lungs.
Performing While Protected
PPE is an officer's first line of defence while they're on duty. With that in mind, most respirators aren't designed to allow for both a wide range of motion and premium protection, to protect frontline workers in the most strenuous environments. Most of the reusable respirators currently on the market for law enforcement are made of bulky, stiff material that wears on the face and inhibits range of motion.
To combat this problem, O2 Industries has launched the Tactical Respirator II (TR2), a premium respirator built for high impact environments, because our finest deserve better. Established in 2014, O2 Industries has been a leader in developing comfortable, premium PPE long before the pandemic. The TR2 was developed by O2 Tactical, a research and design team within O2 Industries dedicated to giving law enforcement the best respiratory protection, without compromising performance. We've worked closely with SWAT teams, Special Missions Units and subject matter experts to execute on this mission.
The TR2 sets a new standard in tactical respiratory protection. Its low profile minimizes cheek-weld interference, and its low-riding seal is eyewear compatible. It also has superior field performance, with 97% Filter Effectiveness at 0.3 microns, and is very breathable even during strenuous activity. Designed for configurability, there are multiple strap options for varying kit setups, and the TR2 is compatible with Invisio® headsets, with an accessory port for mic integration. Crucially, it's also comfortable for extended periods of time, with soft-touch medical-grade silicone that works well with facial hair.
With the launch of the TR2, our core mission is to ensure that law enforcement can protect themselves without compromising performance. We are the tip of the spear when it comes to defusing hazardous airborne particles. To learn more about the TR2 and how it can protect you in the field, visit O2tactical.com.