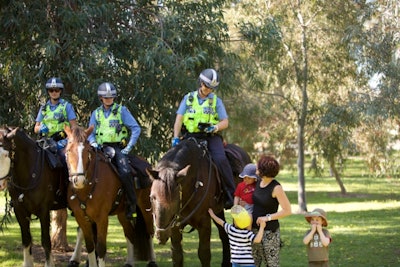 Today, there is a real need for new options to further build trust and transparency between law enforcement and the citizens they serve. Proven next-generation technology solutions, when applied responsibly and holistically, can help.
Integrated technology with video security at its core helps create a new law enforcement paradigm, empowering officers to do their job more efficiently and effectively while creating transparency and new, proactive avenues for community participation in public safety. The right technology can help decision makers gather the data needed to inform smarter, more fair and effective policies. The focused use of responsible AI that aids, rather than supplants, human decision-making will be essential to these activities.
To get there, stronger community participation that guides the use of technology and supports the needs of citizens is needed . Through action, technology can help strengthen the relationship between citizens and law enforcement. As these relationships grow deeper, they build lasting community bonds, which in turn further reinforces trust, completing a virtuous cycle of partnership.
The responsibility of public safety lies in the hands of both law enforcement and the citizens they serve. That's why agencies across the U.S. are exploring new ways to partner with citizens and communities to combat crime.
Today, technology can play an integral role in community partnerships. That's because the growing use of mobile devices and fixed cameras combined with anonymous web-based portals make it easier and safer for citizens and private businesses to directly understand and improve the public safety of their neighborhoods, towns, and cities.
A Trusted City Ecosystem includes new technology to help agencies build publicly accessible applications that allow citizens to play a more active role in their community's public safety efforts. Through easily accessible portals, individuals can submit anonymous tips about suspicious behavior, file police reports, or learn more about crime in their area. This offers the community direct access and visibility into law enforcement activity from a single, safe and anonymous touchpoint. Rather than having to call a tip line or visit a station, community members can simply access the information they need right from a mobile device.
We live in an increasingly video-enabled world, where most people carry high powered cameras in their pocket at all times. This widespread, day-to-day use of camera-enabled mobile devices has elevated community expectations around the recording and capture of interactions between law enforcement and individuals. Body-worn cameras and in-car video systems sit at the intersection of accountability and safety – for both officers and for citizens. They capture critical evidence and remain one of the most foundational and critical tools for documentation and protection while the transparent, irrefutable evidence they provide helps build meaningful trust between agencies and communities.
The evolution of law enforcement technology means that most agencies no longer are challenged with a lack of data. Yet the power of data depends on an agency's ability to access, analyze and share it in a way that produces actionable intelligence. As data from photos, video and sensors continue to grow exponentially, this is increasingly challenging. That's why advanced video analytics and integrated operational software, powered by advances in AI, are so important. They help transform mountains of data into actionable, qualified leads.
The Trusted City Ecosystem's License Plate Recognition (LPR) camera systems are a compelling example. The technology goes beyond basic license plate searches to help law enforcement find the right vehicle out of millions of possibilities. Powerful AI-assisted image search capabilities allow investigators to automatically search massive numbers of images by simply inputting a complete or partial plate image. Searches can be filtered by vehicle year, make and model and even identify a vehicle spotted across multiple locations. This is critical because it saves precious time during an investigation or in-progress crime, allowing cases to be closed faster and more accurately using fewer resources.
SELECT TECHNOLOGY WITH PURPOSE
The Trusted City Ecosystem empowers law enforcement and communities to take a more proactive, partner-based role in public safety. From advanced video security and analytics to software solutions that encourage community participation. Purpose-built technology composed of integrated solutions helps agencies utilize data and communicate more transparently and effectively. This also helps officers stay safer while building a strong foundation of trust between law enforcement and communities.
A STEP-BY-STEP GUIDE TO IMPLEMENTING A TRUSTED CITY ECOSYSTEM:
UNDERSTAND: YOUR UNIQUE NEEDS:
Before implementing any new technology solution, consider the specific needs of your agency and community. Ultimately, your technology needs and your efforts to build more collaboration with the community should reflect your agency's policies, culture and operations.
LEVERAGE: EXISTING TECHNOLOGY INVESTMENTS
Analyze the hardware and software you're currently using to determine where improvement, enhancements or even replacements are desired. Motorola Solutions will work with you to ensure you derive the greatest value from both current investments and new integrations.
IMPLEMENT: PROGRAM FIRST, TECHNOLOGY SECOND
Law enforcement technology should always be governed by, serve, and support law enforcement policy. The technology that makes up a Trusted City Ecosystem is specifically designed to enhance communications between law enforcement and the community and should be part of a holistic community-engagement strategy. We recommend establishing a community policing program in partnership with citizens and clearly defining its goals before identifying and implementing technology to support those objectives.
PARTNER: INVOLVE YOUR COMMUNITY
It's important that agencies broadly communicate about the existence, purpose, and intent of community policing programs. This transparency encourages citizen participation in crime-fighting while mitigating potential misunderstandings. Once businesses, individuals or other municipal agencies have opted-in to the program, law enforcement can partner with and involve them in the implementation of appropriate technology.
RESPOND: QUICKLY ADDRESS INCIDENTS IN REAL TIME
With the right technology in place, your agency can foster a safer, more rapid and more connected response within the community. Plus, you can engage and empower the community to aid in crime fighting efforts. With real-time intelligence from multiple sources including citizens, agencies can focus on responding to the right information and the right incidents in the right way – all while boosting trust, providing transparency and strengthening relationships with the communities they serve and protect.
FORGE A PATH FORWARD FOR COMMUNITIES AND LAW ENFORCEMENT
Today, law enforcement and the communities they serve face significant challenges. Yet, today's challenges can be tomorrow's opportunities. Integrated technology, such as the Motorola Solutions Trusted City Ecosystem can help make law enforcement safer, more efficient and more effective. Agencies have the mission, the will, and the expertise to fight crime. Communities have the desire for safer streets and more transparency about how agencies operate.
When equipped and empowered with the right proven technology that aids two-way communication, intelligence gathering, and information sharing, both law enforcement and communities can better help each other build trust while achieving these goals. In the midst of rising community and law enforcement frustration, technology can offer a clear path forward. To get there, we'll need to engage community leadership that guides the use of responsible technology, while supporting the needs of citizens. In doing so, communities can achieve lasting gains in public safety and justice. Just as importantly, agencies can better protect and serve officers in the line of duty as they work to protect all of us.
For more information on the Motorola Solutions Trusted City Ecosystem, visit www.motorolasolutions.com/TrustedCity
Matthew Brady
Vice President & Director of Software Sales
Motorola Solutions Inc.
brady@motorolasolutions.com