A Clayton County, GA, officer is hospitalized in Atlanta after being shot multiple times Wednesday night when she responded to the report of a woman wanting to harm herself. Following the shooting, the suspect fled but was later shot by Atlanta police in an exchange of gunfire.
Clayton County Police Officer Demika Lloyd was shot multiple times while responding to the call and was found wounded outside the home by other responding officers. Lloyd has been with the department for about a year-and-a-half.
"Upon our officers responding, the first responding officer was met by a female. That female had previously called our dispatch office and advised she wanted to harm herself and she was armed with a gun," says Clayton County Police Chief Kevin Roberts. "Immediately upon that contact, another subject in the house called our dispatch back and advised that she'd heard multiple gunshots and that our officer was down in the yard behind the residence."
Roberts says Lloyd has been doing well in her role on night shift, "will be successful moving forward," and he is praying for a good recovery.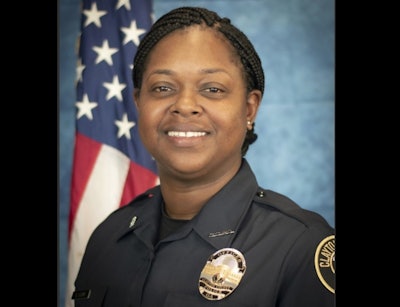 Clayton County police allege Aiyanah Pryor, 25, shot the officer and then fled in a black Jeep. A BOLO was issued to surrounding agencies.
Deputy Chief Charles Hampton Jr., of the Atlanta Police Department, explained during an overnight press conference what happened next. He says his agency checked its License Plate Recognition (LPR) system and had a hit on the plates for the black Jeep in a southwest Atlanta area.
Atlanta officers responded to the area and located the vehicle and Hampton says the officers gave commands for Pryor to show her hands.
"As the officer approached, the female suspect fired at least one shot at the officer and then our officers returned fire striking the female multiple times. None of our officers were injured," explains Hampton.
Pryor was taken to an area hospital with life-threatening injuries, according to police.
Atlanta Interim Police Chief Darin Schierbaum commends the department's officers for locating the suspect and engaging her before she could harm anyone else.
"Our officers acted decisively and bravely I want to commend them for their efforts. The citizens of this city should know that the men and women of this police department are working around the clock for them to ensure their safety," says Schierbaum.
The shooting of the officer is currently under investigation by the Criminal Investigation Division of the Clayton County Police Department. The officer-involved shooting of the suspect in the City of Atlanta is under investigation by the GBI and the Atlanta Police Department.